Red Special replicas
- Watson reviews-


WATSON
3 reviews

review by Michael Maresca (USA):
I'm 26 years old, and a huge Brian May/Queen fan from New Jersey. I've been playing drums and singing in my cover band for the past 8 years. I've
also been playing guitar and recording original material for about that long. Last year I finally tracked down and purchased a Guild Brian May guitar that
I could afford: a prototype of the "pro/junior" series. Over all I really like the feel and sound. It has a fast neck and three
great sounding Duncan Brian May pickups. However it falls short on appearence. It has a glossy black finish, it is unbound, and the headstock
is quite large and steeply angled. Recently I read a few articles on the net about the production of new
Brian May replicas and I decided that I would try to find a "more faithfull" representation of Brian's guitar that would fall in my price range. After
doing my homework on the subject, I was able to find exactly what I was looking for with help from Dave and Watson Guitars.
The new Watson Brian May replica has stunning looks and an unbelievable sound. It's dark red finish is beautiful and really pulls out the gorgeous
wood grain. The binding is a vintage cream color. The scratchplate, zero fret, volume and tone knobs are true to the original. It has great pearl
tuners on a headstock that is properly proportioned to the body. After admiring the instrument for a few moments in it's custom hardshell
case, I quickly picked it up to get a feel for it. The neck is thick and meaty: but not too thick and meaty. It is a real "lead guitar" neck that
gives plenty of room and leverage to belt out all the tastey screams of the old fireplace axe. The body feels great and is light enough to sling
comfortably for the long haul but it has substantial presence. The guitar hits for the cycle once it's plugged in. If you can't foot
the bill on the Vox AC30, don't worry. The sound is unique and rich even when it is heard through a Crate or Marshall amplifier (which are the only
amps that I have at this point). The DiMarzio pickups just plain rock. The Watson Red Special sustains wonderfully even without the help of effects. It
records beautifully and sounds formitable in a live studio setting. The sound is simply tremendous and stands out boldly from the Gibson and Fender
crowd. My personal intent is not to try to completely reproduce the Brian May sound. That, in my opinion, is much like chasing the holy grail. I've
always loved the look of the Red Special and I wanted to own a close replica that would have it's great looks and sound similar to the original. Watson
guitars has made that desire a reality for me. I am a very satisfied customer and would like to give my thanks once again to Dave and Chris.

review by Chris Drago (USA):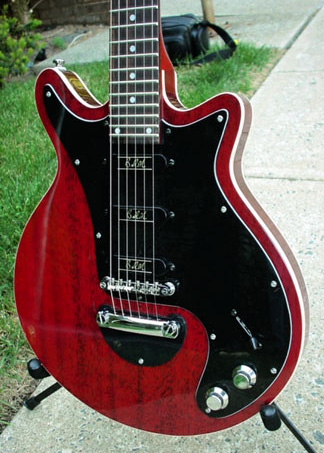 Well, I'm going to start off by saying to anyone who cannot either find or afford a Guild model, the Watson guitar is not just a lower cost alternative,
but kind of a different spin on Brian's Red Special. With DiMarzio Brian May signature pickups, I found the guitar to have absolutely identical tonal
qualities to the 80's Guild model, with a little more sustain because of the stop tailpiece.
Compared to the 90's Guild model: The Duncan pickups on the Guild line tend to emulate a more vintage May tone and never truly have had the ability to
reproduce his "later" sound. That's where this guitar comes in. Plugged into an analog chorus pedal WITHOUT a treble booster, through a Fender tube amp,
killer leads like "Hammer to Fall" and "Tie You Mother Down" just roll out of this guitar like it was part of the arsenal in the studio. Also, the guitar
has a slightly larger neck profile than the Guild models which gave it a more comfortable play-feel and increased sustain. I always felt like the neck on
my signature model was just too thin overall. The finish on the guitar is spectacular, using a correct red stain and a polyester clearcoat instead of
the nitrocellulose, so you don't get "hang-ups" on the neck.
Recommended modifications:
Simple really. Just have the DiMarzio DP206/DP206N Brian May model pickups installed, which is offered through the Red Special
webpage. For those who feel the need to install the 6 switches, let me reassure you of two things: Firstly, the guitar has so much tone that I don't
feel it's necessary to go through all of it. Secondly, the ease of the five way will make using the guitar in a gigging situation that much more
plausible. Ease of operation makes the guitar a little less stressful!
On the whole, this guitar should not be considered a lower cost substitute because it has its own superb characteristics. I'm glad to own one because it
is really a well built instrument that has the look and feel of the original. I'd LOVE to get this thing into the studio!
For all of this and more, I must give thanks to Dave at www.redspecialguitar.com for the helpful advice and fast delivery.
Cheers!
Chris Drago

review by Chris Contillo (USA):
I thought that you all might like my input on this new, affordable 'classic.'
When talking with David, who is the first US distributor offering this with 'options', I decided to give it a shot as I am always wary of taking my Guild
out for professional gigs. Did I want to buy another? I hoped I wouldn't have to.
The headstock design (similar to the Guild BHMJR/prototype) is smaller, and black, which I like very much. The DiMarzio Brian May pickups and Replica
knobs, along with a solid black exact scratchplate (and I mean as exact as I've ever seen in photos) really surprised me when I received it. I
understand I could have opted for Burns Pickups; howver, I knew that the DiMarzios had a thicker sound due to the solid bar design, and it sounds
richer, in a way, than my Guild. I actually like the DiMarzios better! (Sorry, Mr. Duncan.)
This guitar is identical in color to my Guild; just the slightest shade lighter. The mahogany grain shows through the finish in a similar way also.
The finish is superior quality and I can't find any flaw. The bindings are actually cream, which is classy and more 'vintage' in appearance. The tuners
have the look of the originals, and can be changed to pearl buttons.
In comparison, the only difference in the neck I can see and feel is the rosewood fretboard. The frets are medium, but as the Guilds are jumbo but set
low, there is a slicker feel to the Watson when chording, which I enjoy. It is wide at the nut and symmetrical to the neck pickup as it should be. The
zero fret is properly placed, and works like magic with the 'new' tremolo.
The tremolo is the new StetsBar system, which has a powder coated black base and blends in exactly where the trem plastic cover should be. All I can say
is, this thing is the most thought out, amazingly engineered tremolo I've ever seen. The bridge moves forward and back (!) so the strings stay in tune,
first time every time. Although not a replica, it looks good and works great. It is much smoother and actually has more range of motion than the Guild.
Nice work guys! Someone lost a lot of sleep over this item.
The body cavities aid in a fine sound. Without belaboring the point, I need to mention that for those who find the Vox AC30 a bit pricey, David gave me
tips with a Digitech RP300 processor (around $200) and with his settings, my little practice amp gets a great May sound. Tweaking the settings must have
been a chore, and again I received plenty of good advice for my money .
Summary
No one I think will ever come close to my Guild. We're best friends. However, this guitar satisfies my needs and goes beyond quality with fast delivery
(six weeks with all the add-ons) and an awesome deal. It's no secret that overseas guitars are high quality and more affordable, due to lower labor
costs. I plan on ordering a DCX-6 in a wild trans blue quilt top as my other standard player.
I give David and Watson a 10+ for effort. Compare for yourself. They are the only manufacturer that offers an inspection period and return policy! This is
the main reason I chose them over all others. Why take a chance?´ As you can see by my notation below, sound and quality are important.
The Watson replica has both.
Chris Contillo
professional concert pianist, guitarist