Red Special replicas
- K´Z review-


K´Z Guitar Works Red Special
2 reviews

review by James Duffell (Australia):
Ever since I picked up my first Queen album I have been addicted to Brian May's guitar sound.
In 1995 I tracked down a Guild '93 model. It looked the part but when I got it home I sounded nothing like the man I was trying to emulate. In 2001 I moved to Sydney, Australia and went straight over to see Greg Fryer. I brought my Guild guitar and when I compared it to his "Paul" replica I was shocked. My guitar was nothing like his! I pleaded with Greg to build me a replica but he was not going to make anymore. So I was stuck. Then I found the K'z Guitar Works website and after a few conversations via email to Mark Reynolds…my order was placed.

First Impressions
I've been playing guitar for 14 years but am not a luthier so this review will look at the guitar from a players' perspective and not as someone who knows about the inner workings of the guitar.
When I opened the case I was completely blown away. This guitar is beautiful! I took it out and couldn't believe how light it was. My Guild and Burns guitars are much heavier. The finish is flawless and this is the first Red special I have seen that is the right colour – brownish-red. I was glad to see that the switches were recessed into the guitar like Brian's.


Neck/Fingerboard/Headstock
The neck is nice and fat which makes bending strings very easy. The guitar came setup perfectly and was strung with Rotosound .008 gauge strings. The neck is mahogany and is slightly more V shaped towards the headstock end of the guitar. The fingerboard is oak, which has been painted black and has inlaid pearl dot markers. There is plenty of Rustins plastic coating on the fingerboard, which makes the guitar a dream to play. One of my favourite things about this guitar is that there is no obtrusive logo on the headstock. The K'z Guitar Works logo is on the back of the headstock along with my name.

Tremolo
The tremolo is my favourite part of the guitar. Not only does it look the part, but it stays in tune better than any guitar I have ever played. Brian and his father truly were geniuses when they invented this system. I can drop down a full octave and it returns to pitch every time. Even the tip has that vintage "knitting needle" look!

Tone
I play my guitar through a Mesa Boogie Dual Rectifier Maverick half-stack with a Greg Fryer treble booster. This amplifier (although not a Vox Ac-30) is all tube, Class A, and outputs 35 watts. The amp is run fully open, and all other controls are off. With this combination I get a distinctive Brian May sound. The screaming setting, bridge and middle pickups in-phase, is perfect for those "Hammer to Fall" and "One Vision" moments. While playing, I can hold a note and it will ring forever! This guitar has great sustain and sounds perfect.

Overall
This replica is as close as you can get to owning Brian's guitar. I can find no flaws whatsoever. It is obvious that a lot of hard work went into my guitar. Kazutaka spent one year building this guitar, and it shows. Every part has been replicated with painstaking attention to detail and nothing has been overlooked. The bridge, knobs, and tremolo are all custom parts made by Kazutaka.
Kazutaka Ijuin is a legend. His customer service is nothing short of excellent. He replied promptly to all of my emails and sent me photos of my guitar's progress every month. The guitar arrived in Australia very well packed and the flight case fits the guitar perfectly. Thankyou Kazutaka for making my dream of owning the ultimate Brian May replica come true.
James Duffell - Australia
January 2004



review by Peter Michalowski (Sweden):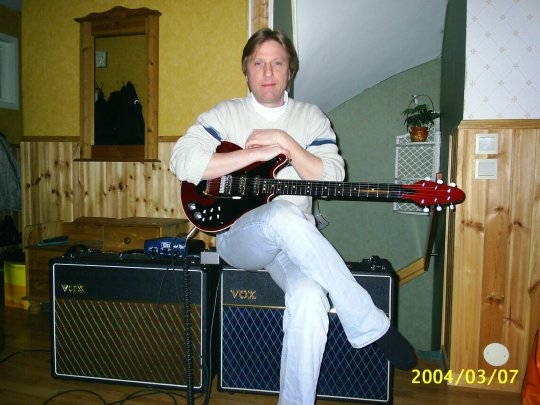 I have been playing in a Queen tribute band for some years now here in Sweden.
First I bought the Guild BHM Pro and then some Burns BHM´s. I liked the Guild but always thought something was missing. Like sustain and the ballance in sound. After I got in contact with Mark Reynolds, who became one of my best friends, he recommended me the K´Z Red Special Replica. After saving some money and also have played Mark´s homemade I decided to go for it.
The communication with Kazutaka was great. He always responded my emails fast.I filled the orderform both on Internet from his webpage and then on paper. Money was
very smooth to wire to Japan using the "SWIFT". 6 months later I recieved "The Guitar" or the ultimate Red Special Replica.
The Arrival:
Let me first start with the case: It really is something extra. It´s custom built for the Red Special with two boxes for strings, cables etc etc. Amazing. It really looks better in real life than shown on the pictures. I really recommend to go for this case.
It is really hat beautiful that I would like to have a special softcase for the it to protectit. It really is something special. On the upper left frontside you read the text.
K´z GUITAR WORKS. I like that
There are some tools included like a special screwdriver that you adjust the remolosystem with. Also spare rollers
First inpression:
Opening the case was really like I was a child again. There it was. Beautiful red with a sligt tone of brown. Like so many of the pictures we seen on Brian´s Ol´lady.
I just looked at it for several minutes and just admired the finish and was amazed about the work on this ultimate instrument. Every detail is amazingly well done.
I don´t think you can find a Les Paul from Custom Shop with a better finish. Gently I took it out of it´s case and was a little suprised over the weight. I thought it should be a lot heavier.
Holding it for the first time:
Gently I started to riff a little unplugged. I was suprised over the sustain and also the extremly well ballanced tone from each string. The neck was a little bit cunfusing in the beginning but after some time I got used to it pretty well. If a guitar have this fat neck you might think that it´s not that well ballanced. Wrong. Perfect ballance.
Trying the tremolo was a great experience too. It´s very smooth and goes back to perfect pitch after a divebomb 1 octave. The strings looks like spaghetti but goes back to perfect pitch. I was amazed again. I will be that many times as you soon will read.
Plugging it in for the first time:
I have this little Vox Pathfinder and Vox BM1 at home that I use as practice amps and it was now time to get amazed again. Now you really could here the sustain and compared to my Guild I would say it´s atleast twice as long with no feedback coming from amp.
I also found out that the pickups were perfectly adjusted. Out of phase really screams. That sound was always a problem with my Guild. I also discoverd that I didn´t have to hit the strings that hard that I did on my Guild. Once again the ballance between all strings is perfect. The tremolo also gave me the greatest pleassure. Absolutely perfect.
Volume and tone pots works great. The switches are mounted on an underplate and I have a perfect grip of them and they move smooth. Rolling back the volume gives a perfect clean crispy sound without loosing any treble. At around 50% or slight below a perfect rythmdistortion comes. A very tight and sweet sound.
Plugging it in to my Vox AC30TBX and Vavetronix:
Here comes the really fun part. I was totally blown away with the sound. Once again very ballanced sound. Rolling back the volume this perfect clean crispy sound. Around 40% this perfect rythmdistortion. At full volume I had a leadsound that I could kill for before. Sustain is AMAZING. No microphonic feedback like on my Guild. Out of phase was really what I have missed all the time. Lots of sustain. All pickup configurations works perfect.
Just neck pickup gives you this perfect sound like in Brighton Rock solo part. Middle and Bridge this warm sweet sound sound we all love soo much. Also the guys in my band were suprised about the sound. They have always thought I had a perfect sound. Well, now I have that.
Giging with it:
Had the pleassure to do the first gig with it some days ago with our tributeband. Here the sound was even more convincing. I played through my AC30TBX and Valvetronix. Also used Cornish treble booster. Sound was again amazing. I never had any problem with tuningstability. It actually stayed in tune the whole gig. I really trust this instrument 100%. I can´t say I do that with my Guild. The sound cuts through the mix. The sound is soo sweet and I also must say that I now felt 100% comfortable with the fatter neck. I thought it would take more than 4-5 days.
Final:
There is nothing on this guitar I can complain about. I have compared it a lot with my Guild. I have the Tri-Sonic V´s on that too and I have set he pickups to sound the best but it´s not close to the K´z. It really is an amazing instrument. It´s worth every Yen. Even the price will go up I recommend you to buy one if you want The Sound.